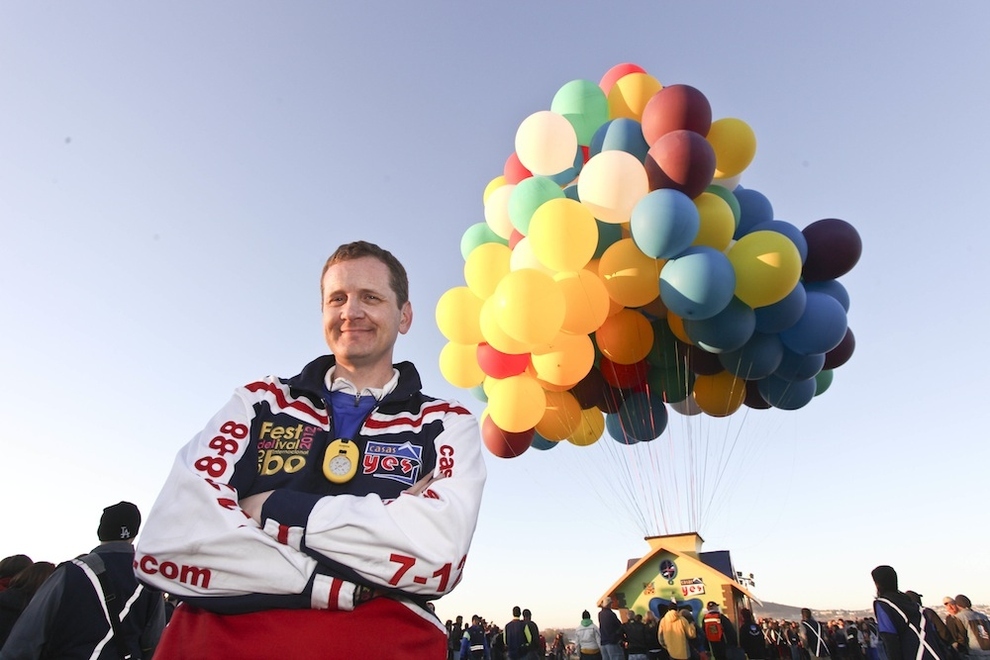 Wow! That's my dream. Jonathan Trappe from North Carolina flew above the International Ballon Festival in Leon, Mexico, in a house inspired by the Disney Pixar movie Up. Two years ago, he was the first man to fly across the English Channel with a cluster balloon. And before that he had already crossed the Alps with toy balloons. Jonathan also holds the Guinness World Record for the Longest cluster balloon flight of all time.
All images courtesy Laurentiu Garofeanu / Barcroft USA
"I will sail, but not on the oceans. I will sail on the skies."
Now the Jonathan plans to take his ambition a little further with a world-first attempt to cross the Atlantic with cluster balloons. sailing from Maine, USA, to Paris, France. You can help Jonathan to crowdfund his adventure.

Cluster Balloons
Unlike traditional hot-air balloons, where a single large balloon is equipped with vents to control the altitude, cluster balloons are multiple, small, readily available and individually sealed balloons. To control flight, stop a climb or start a descent, the pilot incrementally jettisons or deflates balloons. Ballast can be jettisoned to facilitate ascent.
Check out Jonathan Trappe's website:  www.clusterballoon.com