Druzhba Sanatorium in Yalta is a stunning soviet building that appears on the cover of a beautiful TASCHEN book that I bought recently. The book is called "CCCP – Cosmic Communist Construction Photographed" and was edited by French photographer Frédéric Chaubin, who is also Citizen K's editor in chief. Many of the pictures reminded me of all those crazy – ugly and beautiful – modernist buildings I saw when travelling across Russia. The books title recalled a big questions I asked myself as a kid: What do these five letters CCCP on Yury Gagarins rocket stand for? So many C's and one P, but "Soviet Union" had neither in it. It took me until 2012 to understand that it means "Cosmic Communist Construction Photographed".
Especially intriguing to me (and to the Pentagon as I found out later) was the cover photograph of the Druzhba sanatorium ("Friendship Spa") in Yalta on the Crimea peninsula (Click to see it on the map). Druzhba Sanatorium will definitely be a destination on my next trip to the Ukraine. I made a quick research on the Russian speaking internet and found some really interesting pictures to complete the book's experience. There is even a floor plan of what could be a starship for Star Trek or an UFO. So lay back, enjoy your stay and the view on the black sea before we take off to Mars!
Some facts about the Druzhba Sanatorium
The Druzhba sanatorium was built from 1983 till 1985 and is considered the masterpiece of its architect Igor Vasilievsky and engineer Yurij Stefanchuk. The construction was a challenge: three huge concrete pillars were planted in the shoreline. Then two enormous concrete cylinders with a diameter of 76 metres were seated on the three pillars. Three additional roundhouses are sitting on top of the upper cylinder. Suspended between the pillars is a sea-water swimming pool.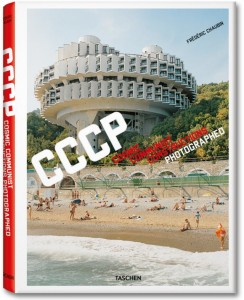 The book by Frédéric Chaubin | All images found at yandex.ru